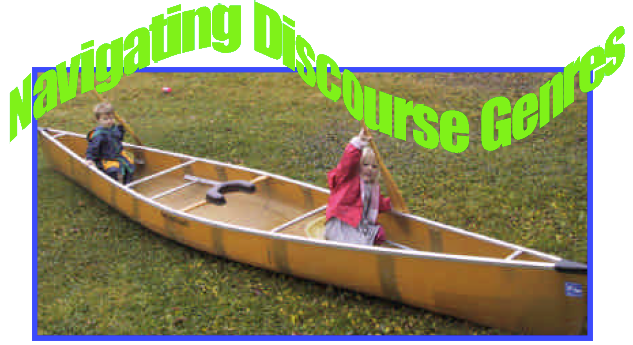 Parallel Texts in American Sign Language and English
on Canoeing in the Boundary Waters
with Eric Larson and Jenny Stenner
Interpretations by Anthony Verdeja
---
An Imperfect Project: An Overview
What this project is and what it is not:
This project offers some resources for beginning to better understand discourse genres and how knowledge of them can inform the work of interpreters. It is a contribution to a growing field of study addressing this area. However, it is not intended to be a complete course in discourse analysis. There is page on here with possibilities for further study and research. My hope is that this resource will allow interpreters to begin to see the relevance of discourse analysis and for interpreter educators to more easily incorporate these ideas into workshops and courses.
It's also important to be clear that the texts and interpretations on the CD-ROM are not perfect. In fact, they are filled with imperfections, and as the person responsible for pulling this together, I couldn't be happier.
On the Source Texts:
These offerings are opportunities for studying discourse genres and how they affect the language that we use. There is more about that on the following page, but want I want to stress here is that these texts and interpretations were very much unrehearsed. I simply invited Eric Larson and Jenny Stenner to talk about a common topic with which they both are familiar. I specifically asked them not to do any extensive preparation, but rather to just talk about it and see what came out.
To me, this is important because the reality of language is that it is riddled with tiny errors, which we mostly are able to ignore as we focus on the larger purposes of communication. As an interpreter (and an interpreter edu- cator,) I have found most of the resources available for practice show a higher level of rehearsal than I find in my daily experience of actual interpreting.    On the other hand, these texts, because they are not rehearsed, offer many opportunities for looking at how we really communicate in ASL and in English.
On the Interpretations:
In the same way, there are not many interpreters who have been willing to share their unrehearsed work based on really challenging materials. My great thanks goes out to Anthony Verdeja for being wiling to do just that in this project. He had only the introductory and background materials to prepare before actually interpreting. (He didn't have access to the transcripts and outlines included on the CD.) He had never met either Eric or Jenny- -and only got to see their introductions minutes before having to interpret this series of texts. Beyond that, Anthony has some experience with canoeing and the Boundary Waters, but has never actually been on a trip into the BWCA. Within this context, Anthony produced interpretations that I think will serve as great learning and teaching tools. Taken as a whole, I think you will find the interpretations to provide a wide variety of strategies for how interpreters manage difficult assignments.
Again, I just wish to express my gratitude for Anthony's willingness to risk and to share his work so that this project can be an even more useful tool for improving our collective understanding of how to work more effectively between languages and between genres.
On the Wonder of the Digital Age:
I also can't help but comment on the amazing reality of what is possible with CD-ROMs. This small disc holds almost 2 hours of video, background, scripts and outlines, as well as suggestions for how to use it all. My great hope is that this project can also inspire others to begin creating resources such as this–and that the familiar cry of interpreters about a lack of practice materials will soon be a thing of the past.
Doug Bowen-Bailey, February 2002