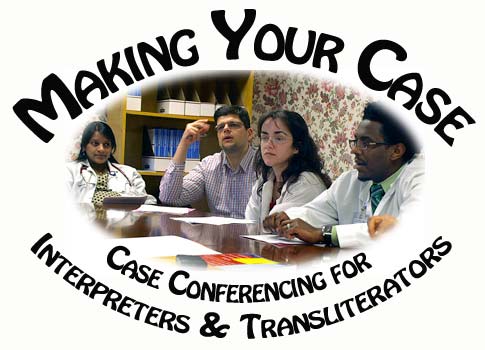 March 3 2017
KY School for the Deaf, Danville KY
Workshop Presentation & Handout
Click the buttons below to view resources for the presentation.
Workshop Description
About the Workshop
In the quest for the best practices, the field of interpreting and transliterating have borrowed from other professions to support the delivery of quality services.  One of those techniques taken from the medical field is case conferencing to hone what Rushworth Kidder terms ethical fitness. This workshop will outline the process for participating in case conferencing to discuss situations faced by interpreters and understand the three dimensions of interpreter role-space.  Using the Demand Control Schema as developed by Robyn Dean and Robert Pollard, participants will be able to present their own cases and explain what challenges they face and the steps taken to address these demands. While designed specifically to address issues faced by interpreters, other members of the educational team, such as teachers, speech language clinicians, parents, etc, are welcome participants.
Workshop Resources
Workshop Resources
Each of the titles in the list below is a link.  When you click on the title, it will reveal a series of resources contained in that category.
Case Conferencing Resources
 In Gratitude
Thanks to the organizations who helped to make this workshop possible.
Eastern Kentucky University Interpreter Outreach Program
in conjunction with Kentucky Department of Education
Contact Digiterp About Workshop