A Lesson on Loss and Love
A Lesson on Loss and Love
by Doug Bowen-Bailey
I'll admit it.  I love my red bike. It's light and responsive and has taken me all sorts of beautiful places.  From the hills and gravel roads on the North Shore of Lake Superior to the rivers and fields of Northern Colorado.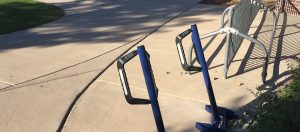 So, you can imagine the catch in my breath when I emerged in the pre-dawn darkness from the dorm where I am staying to see a child's blue mountain bike resting against the bike rack where I had left my red bike locked the night before.  As I struggled for oxygen, tears welled up in my eyes.  It is something which has been happening a lot lately.  Sylvie, our elder child, is heading off to college in the fall and tears come easily these days.  In addition, I also felt a spike of anger and a sense of violation.
In the midst of all that emotion, I took a deep breath. I was standing, after all, on the campus of the University of Northern Colorado where I had come to be a part of the inaugural conference of the National Association of Interpreters in Education.  So, not only was it early, it also was at 4700 feet of elevation.  Oxygen is a pretty valuable commodity.
As I inhaled, I also scanned the parking lot.  At the far edge, a police officer sat in his car.  Gathering myself, I walked across the empty tarmac to make a report – knowing full well how unlikely it might result in me getting my bike back.  I shared my name, address, date of birth and phone number before we got to the details of my bike. No, I didn't know the serial number of the bike. Yes, I know I should have had a stronger lock – or better yet brought it up to my room. The officer was both respectful and professional.  As he touched his smart watch to finish up his report, it glowed 4:46 A.M.
I will probably never see my red bike again.
I returned to my room and sat for a moment before opening my laptop to look for a replacement bike.  After finding one and reading a few reviews, I shut the computer and decided to shed my bike clothes and head outside for a run.  Focus on what was in my control.
Instead of on a bike, I set out on foot through the neighborhoods of Greeley.  The eastern part of town was just starting to lighten.  For an hour, I plodded through the oxygen-lean air of this college town on the northern plains of Colorado.  Movement, for me, is an important opportunity for reflection.
As I navigated the unfamiliar streets, I thought back to my own street and a memory of carrying Sylvie out to the car one morning.  She probably was about 16 months old.  When I opened the back door to strap her into her carseat, I noticed that our car stereo was ripped out of the front panel.  My stomach sunk.  Yes, we had forgotten to lock the door.  I felt violated – and suspected that the person who had broken into our car most likely was someone who was struggling with addiction.  So our car stereo was probably not going for a good cause.
Yet in the midst of my own anger, Sylvie bubbled away with joy.  For her, the world had not changed.  The dad who loved her was buckling her in to head off on on some adventure.  I had one of those parenting epiphanies about what is really matters.  There are other ways to have music in your car.  I still had my little girl with her laughter and smile.  My anger melted into gratitude.
In parenting and life, we are shaped by our experiences.  Before Sylvie arrived, Holly and I went through the tragedy and grief of pregnancy loss.  First a son, Aurora.  Then twin daughters, Savannah and Skye.  Buoyed by the love of our family and our community at Peace Church, we sought a sense of resurrection – of life after death.  We sprinkled the ashes of our children on the hillside below our church in the planting of a prairie.  A memorial to children who had passed on too soon.  I wrote a poem for the ceremony we did with the planting.  It's opening lines, while rooted in grief, lean toward faith.
We come, farmers all, not to bury our grief but to plant. Sprinkling ashes with sadness and hope. This is where we sow our faith and call beauty forth from death. Where our tears water the soil and bloom in their time.
So, I have experienced love and loss before and found life after it.  In comparison, losing a bike is not that significant – even if it is a beautiful red one that has taken me on many the miles.  The person who took it, after all, is also someone else's kid.  I am guessing that they probably don't come from a household that has the resources that we do. While I am still angry and sad, I also wish the best for the person who stole it.  May it be like candlesticks for Jean Valjean.  I certainly am not the Bishop of Digne, for I would not have offered up my best if I had the choice. But since I am here and have no choice, I now say:  RIP Red Bike.  May you ride in peace and may your new rider find as much joy and health with you as I did.
What comes after the loss? With props to Shakespeare, that, to me, is the question.  For there is a void – an empty ache that is the companion of grief.  When we lost our little ones, I felt like there was a hole in my heart.  Where all those dreams I had for our children were stored away – and then gone.  As I write, I know that the hole has closed over – stitched together by my love for Sylvie and Frost who came in the time of resurrection.  But a scar is still there.  And in it, grief still abides.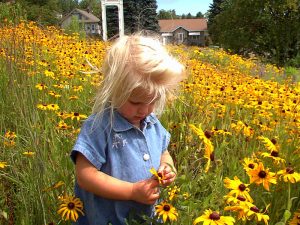 So, too, does gratitude.  Holly and I are infinitely blessed.  Two healthy children have followed and grown to be amazing young people. We are surrounded by friends, family and community who love us.  We have work that is meaningful and makes an impact in the lives of others.  And we have the great opportunity to learn and grow.
This morning, my red bike was stolen. Another lesson in love and loss  – one I seem to need to learn over and over as the temptation to become attached to material possessions runs strong in our culture.  I learned it in Sunday School.  "For where your treasure is, there your heart will be also."  Sylvie as a toddler taught it to me again.  I lost my bike and though she is heading off to college in the fall, I still have my girl who laughs and smiles and sometimes won't stop talking. I have my boy who fills our house with music and a partner in life who I love more than I can say.  So on this beautiful morning in northern Colorado, my scarred and imperfect heart spills over with gratitude.