Mitchell Auditorium – College of St. Scholastica
Tuesday, November 11, 2014, 7:30 p.m.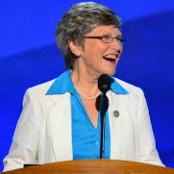 Catholic sister, attorney, and poet known as an outspoken advocate for social justice, Sister Simone Campbell first founded the Community Law Center in Oakland, California, focused on the needs of the working poor of her county. She then served as director of Sisters of Social Service, overseeing work in the United States, Mexico, Taiwan, and the Philippines. She gained national exposure as director of Jericho, an interfaith interest group advocating for the poor, and is now Executive Director of NETWORK, a National Catholic social justice lobby. She has taken part in religious delegations to Chiapas, Mexico (1996), Iraq (2002), Syria and Lebanon (2008).

Sr. Simone will speak about how her travel around the U.S. with Nuns on the Bus has helped her live out Catholic intellectual and social teaching through antipoverty work, healthcare reform, and immigration reform, advocating for "justice for immigrants and all people who struggle at the margins.
Is this event open to the public?:
Yes
Contact:
Spotlight Box Office
Contact Phone:
(218) 723-7000, (877) 263-9596