Registration Options:
With T-shirt – $40 | No Shirt $20 | With Pie/Dessert $10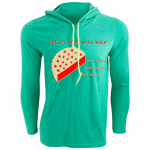 This shirt is a mock-up of what style we will have.  (Long sleeve with hood.)  We haven't decided on color and Ahme is designing a new logo.  2015 apparently is the international year of banana cream.
Posted in: Run Information